As if applying to grad school, work, gym, fun, etc. etc aren't enough to keep me busy I just enlisted for an ornament swap.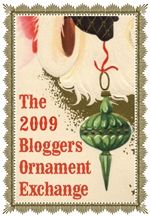 I know, I know, I'm a scrooge so how does that work? Well, I love swaps. At least I think I do. I've never actually participated before but I've been on the prowl. I've also tried to talk T into hosting one with a social gathering for the exchange finale but she's not too enthusiastic. I'll continue to work on her. Don't tell me my superpower of intimidation is slipping, EEEek. If you're interested I believe the cut off is today. Hop over and
sign up
! Get involved! Happy crafting!